Welcome to Little Acorns!
Our Teachers: Miss Atkinson
In the Little Acorns class we welcome our new children and families to Burntstump Seely CofE Primary School.
Along with Mrs Derby and Mrs Nicholson, we provide a caring, supportive, stimulating and happy environment where each child is encouraged to reach their full potential.

Our Day
8.45-9.05 Soft Start and Register
9.05-9.25 Maths
9.25-10.30 Child Initiated Learning
10.30-10.50 Milk, Snack and Story
10.50-11.10 Phonics
11.10-11.45 Child Initiated Learning
11.45-12.30 Lunch
12.30-13.00 Register, topic session
13.00-14.15 Child Intitiated Learning
14.15-14.30 Snack
14.30-15.00 Child Initaiated Learning or Topic
15.00-15.15 Fine Motor activity
15.30 Home Time

The day is a balance of adult led and child initiated activities.
Lessons are still play based and planned to meet the individual needs of children in the class. Children have access to indoor and outdoor provision in between each learning session.

Each child has a selection of reading books which they can take home every afternoon and return to school each morning. These can be changed during Soft Start.

During child initiated play, Pre-School and Reception children are able to play and learn together but they will have seperate group times with learning tailored to their age and ability.

We love to play and learn outdoors whatever the weather! Please have suitable clothes and shoes in school all year round.

We enjoy a daily snack of milk and fruit. Toast is also available and is to be ordered on a Monday at £1.25 for the week.
Homework is sent out on a half-termly basis and consists of fun learning opportunities to be carried out at home in line with our current topic. Children are also encouraged to read at least three times per week and practice their key words (F2 children). Mathletics is also available for home learning.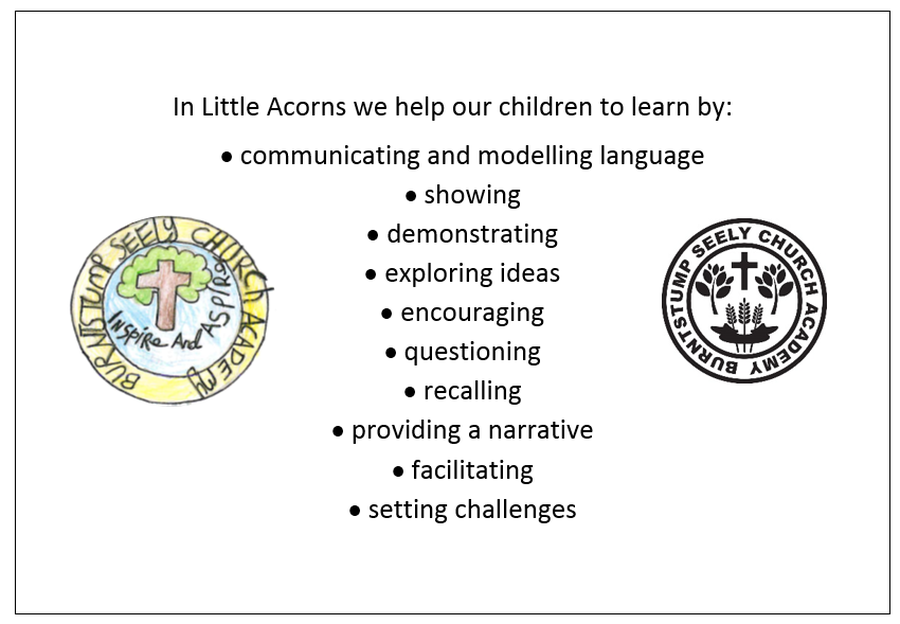 Autumn 1- Magnificent me!
A warm welcome to our new starters in F1 and F2! Over the next 7 weeks the children in the Little Acorns will be exploring the topic of 'Magnificent me'. A more detailed description of what we will be covering can be found on our Topic Map below.
A gentle reminder that PE will take place for all children on a Thursday but we ask for our F2 children to leave their PE kits in school all week in case there are any changes to our timetable. F1 children will not be getting changed for PE just yet.
Our F2 children have now received reading diaries and books which will need to be brought into school every day. Please read as often as possible (at least 3 times a week) and fill in the reading diary so that your child will get a stamp.